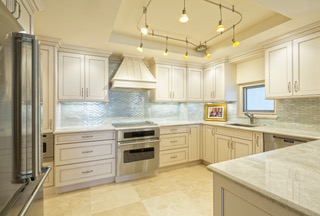 Housekeeping businesses registered with Sunnymaids Referral Agency provide the following services: Moving in and moving out cleaning, of apartments, homes, offices, and mobile
homes. (Credit Card required in advance). These services include:
Kitchen cleaning includes: Counters, sinks, faucets, cupboards & drawers inside & out, microwave oven inside & out, refrigerators cleaned inside & out, oven & stove top, light fixtures, light spot cleaning of walls and baseboards, vacuuming & washing floors. (Homeowner retains full responsibility for existing stubborn burn, scratched or abused areas on appliances).
Bathroom cleaning includes: Counters, sinks, faucets, cupboards & drawers inside & out, mirrors, shelves, light fixtures, spot clean of walls, toilets, tub, tub shower enclosure, shower glass, and showers, inside, outside window if accessible. (Homeowner retains full responsibility for stubborn existing etched water spots and mildew or mold under grout, and/or fiberglass tubs & showers that may be stained beyond cleaning).
Living Rooms & Bedrooms, Hallway cleaning include: Window seals, tracks, cupboards & shelves, baseboards, closets, closet mirrors & tracks, vents, fans & light fixtures that are reachable with a standard ladder. As well as vacuuming carpet and floors, washing floors.
Cupboards & Drawers, Closets, Baseboards, Woodwork, Vents, Fans, Light Fixtures cleaned in all rooms.
Only regular Vacuuming of Carpet & Floors, Washing Floors is done in all rooms.
Homeowner must arrange for carpet shampooing in a separate order in advance.
Windows washed: Window glass inside & out, window tracks, screen and ledges washed.
Note: windows can be washed as long as the windows are accessible with a standard ladder.
Unaccessible windows require a separate order
Light fixtures & ceiling fans & vents: washed
Woodwork: cupboards, drawers, shelves, doors, door frames and baseboards washed
Patios/decks: Washed. We do not do power washing. (Garages washed only upon request.)
Washing of ceilings and walls require a separate order upon request.
Stripping of wax on floors is not available.
Rates: Depend upon condition of the home, e.g. if lightly, moderately or heavily used.
Prices are: $25.50 to $27.50 per hour, per person ( price depends on location).
Cleaning supplies are extra: $15 to $45, depending on condition of home. Homeowner may supply their own supplies upon request.